Le duo canadien, maître du synth-funk abrasif et dansant, vient de rendre ce 28 septembre sa copie pour la série DJ Kicks chez le label allemand K7! En attendant un nouvel LP en 2010, retrouvez leur dernier single, Night by Night, en téléchargement gratuit par ici…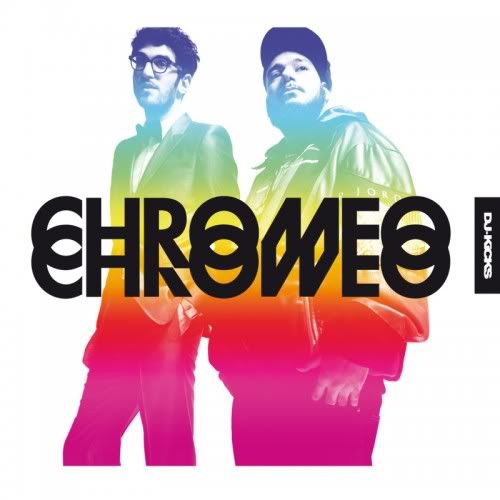 Le duo montréalais, P-Thugg et Dave 1, referont parler d'eux courant 2010, vers l'été, selon leurs dires, avec un troisième LP en préparation. D'ici là les deux producteurs, remixers, chanteurs et instrumentistes, viennent de sortir chez K7! le 30ème volet de la série des DJ Kicks, compilation ecléctique depuis 1995.
La sélection est forcément retro-funk, synthétique, boogie-eighties comme il faut. Pas mal de raretés, quelques funk versions canadiennes, du français et même une reprise des Eagles par le duo (I Can't Tell You Why)…Voilà une compilation à ranger bien au chaud entre vos Cameo et autres funktronikeries-lessivées.
Les deux canadiens viennent également de sortir leur nouveau single, Night By Night, tout frais tout beau chez Green Label Sound et mixé chez notre frenchie Philippe Zdar. C'est le premier morceau original pour Chromeo depuis leur album de 2007, Fancy Footwork. On vous invite à télécharger ce morceau, ci-dessous!
Chromeo – Myspace

Download : Chromeo – Night by Night (Sept 2009)
Tracklisting : Chromeo – DJ Kicks:
1 Kano: "Ikeya-Seki"
2 Pierre Perpall: "J'aime Danser Avec Toi"
3 Toba: "Moving Up"
4 France Joli: "Gonna Get Over You"
5 Donna Allen: "Serious"
6 Lovelock: "Maybe Tonight"
7 Chateau Marmont: "Solar Antapex" rework
8 Val Young: "Seduction"
9 Soupir: "Larmes de Métal"
10 Lifelike: "Sequencer"
11 Carmen: "Time to Move"
12 Shotgun: "Don't You Wanna Make Love"
13 Cheri: "Murphy's Law"!
14 Leo Sayer: "Easy to Love"
15 Shazam: "Luckier"
16 Chromeo: "I Can't Tell You Why"
17 Diane Tell: "Tes Yeux"
18 The Alan Parsons Project: "Pipeline"