Le duo allemand Neu!, pierre angulaire de la musique moderne, extension de Kraftwerk et transcendance de la Kosmische Musik, connaîtra un Tribute au mois de mai. Le groupe, influences profondes de Bowie, Radiohead ou PiL, se fait spotlighter par ses adorateurs, avec au casting : Foals, Sonic Youth, LCD Soundsystem, Fujiya & Miyagi, Primal Scream ou Kasabian.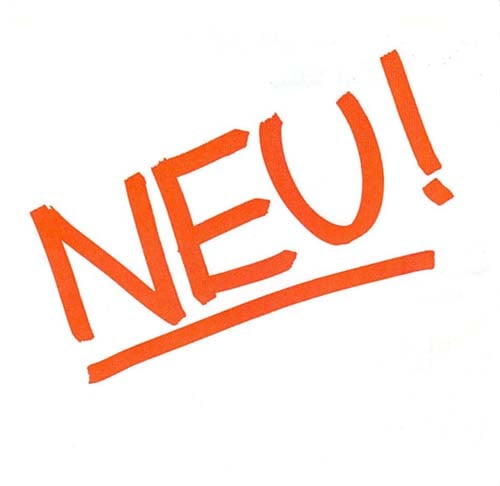 Dans son livre Krautrock Sampler Julian Cope, à propos de Neu ! commence comme cela : « Il y a vingt-trois ans, j'étais allongé dans une caravane du côté de Tamworth, dans le Staffordshire, quand mon rapport à TOUTE la musique a été brusquement transformé…». On peut se demander si ce que Cope a vécu ce jour là, toute une frange de l'intelligentsia musicale des 20 dernière année ne l'a pas ressentie à l'écoute de Neu ! et de Neu 2, les deux premiers LP du duo composé de Klaus Dinger et Micheal Rother.
Pierre angulaire du krautrock et de la musique allemande impressionniste et minimaliste, les compositions de Neu ! ont sans aucun doute fait réfléchir pléthore de groupes à travers le monde. Voilà pourquoi il n'y pas d'étonnement à voir apparaître ce Brand Neu ! chez Feraltone le 11 mai prochain, tribute à un duo fantasque et fascinant, qui révolutionna le son par sa liberté et la force de sa Motorik Music.
Au programme des tracks de groupes fan (Sonic Youth, Primal Scream, Foals, LCD ou Fujiya & Miyagi), mais aussi quelques apparitions étonantes (Kasabian, Oasis) et deux unreleased de La Düsseldorf (le groupe de Michael Rother) et Rother en solo.
Tracklisting :

01 Ciccone Youth (Sonic Youth): "Two Cool Rock Chicks Listening to Neu!"
02 Primal Scream: "Shoot Speed / Kill Light"
03 Pets with Pets: "We Only Found This Place"
04 Oasis: "I Can See It Now"
05 Foals: "Titan Arum"
06 Cornelius: "Wataridori"
07 Holy Fuck: "Super Inuit"
08 LCD Soundsystem: "Watch the Tapes"
09 Kasabian: "Stuntman"
10 School of Seven Bells: "Device fuer M"
11 Fujiya & Miyagi: "Electro Karaoke"
12 Hook & the Twin: "They'll Get Your Head"
13 La Duesseldorf: "Sketch 1_08"
14 Michael Rother: "Neutronics 98"