14 février, Valentine's day oblige, le label californien Stones Throw nous propose une belle rencontre disquaire entre le barjot Prince Paul (Stetsasonic, De La Soul, RZA…) et PBF, boss du label. Diggin deep, lovin sweet.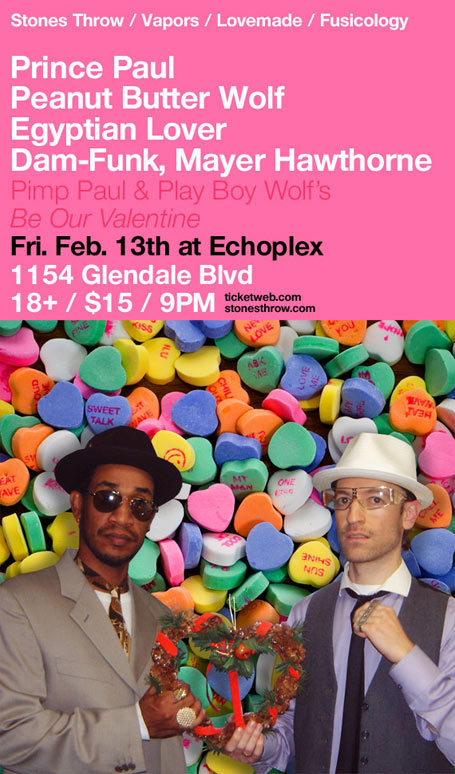 La rencontre est de taille, sous leur alias Pimp Paul et Playboy Wolf présentent -non sans humour- 40 minutes de synth-funk primaire, de vocoder-tunes et autres handclaps-sucre-en-poudre. Everlasting Love.
Download: Pimp Paul & Playboy Wolf : Be Our Valentine Podacst (Stone Throw 42)
nb: Ah oui, la tracklist. Ahah. Voici la réponse du duo à ladite question:
"GIRLS, next time Pimp Paul or Playboy Wolf are IN YOUR EAR, tell us "I want YOUR BODY". Baby, I wanna ROCK YOUR BODY cuz I'm the LOVE DOCTOR. We're the definition of LL. Haters be talkin bout "I'M SO JEALOUS", but fellas, remember jealousy leads to LONELY TIMES. Now ladies, just cuz they call us Pimp and Playboy, DON'T BE A PLAYGIRL. Alyssa, YOU'RE SO PRECIOUS. THIS DREAM IS REAL. It's not a dream. No, I'm not hustling you into bed. Why you gotta act so FUNKY? KINKY? Who me? They call me the GRANDMASTER LOVER. I'm single and wanna mingle. Don't believe it when they say I'M A BALLPLAYER with ladies from here to Spain. You're my SPECIAL LADY, GRACE, I mean Debbie, I mean Denise. I gotta JONES FOR YOUR BODY and I'm SEARCHING FOR LOVE, so TRY ME OUT. WHAT'S YOUR GAME? I LOVE THE WAY that you're killing me. YOU CAN LOVE ME BABY."
– PIMP PAUL AND PLAYBOY WOLF, FEB 14, 2009