Le newyorkais Luca Venezia, alias Drop The Lime, s'était fait un petit nom il y a quelques années avec ses premiers maxis en 2003. Fort à parier que 2009 risque de revoir le fou des dancefloors briller un peu partout, saupoudrant sa booty-music déjantée sur nos têtes.
l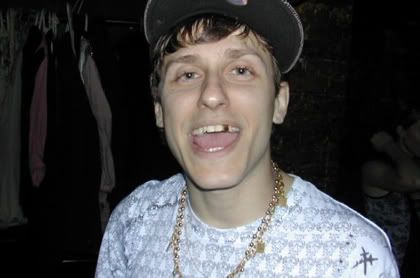 Le new-yorkais Luca Venezia, aka Drop The Lime ou encore Curses !, est toujours en course pour chambouler la scène club internationale et jouer la carte du gars prolifique on ne peut plus. En effet le single Hear me venant de sortir avec ses remix, on en profite pour mettre un petit coup de projecteur sur un artiste un peu fou, aux multiples facettes (ceux qui ont pu le voir en DJ/live set s'en souviennent) qui devrait faire forcément grandement parler de lui en 2009. Entre acid-house, revival neu!, ghettotech, breakbeat, drum ou dubstep, Drop The Lime n'a peur de rien est retourne tous les dancefloors de la planète ces derniers temps. Hear Me est paru chez les new-yorkais de Trouble & Bass il y a quelques jours et est remixé pour l'occasion par AC Slater (pour un gros liquid-house), Burka Som Sistema (et ses syncopes coupes-coupes), Drums Of Death et The Touch.
On espère voir sa venu de nouveau dans les parages au plus vite. Sinon, go New York, go.